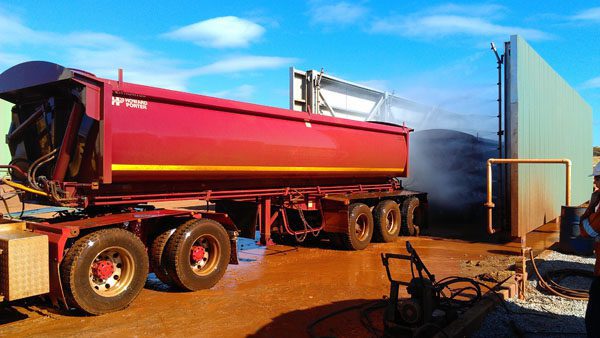 Carina Iron Ore Wash Bays
The Carina Iron Ore Project;
Open cut mining from a single pit,
Ore haulage approximately 50 kilometres to a siding on the existing trans Australian railway
Dry crushing and screening, and Train loading at the siding.
Our role was to Design, Install and Commission three new Heavy Vehicle Wash Bays Systems with
associated treatment and infrastructure in 2 locations the mining site and the main office area.
A manual Heavy Vehicle Wash down Facility for the mining / crushing and other equipment,
An automatic Heavy Vehicle Wash down Facility for their ore hauling trucks and
An automatic Light Vehicle wash down facility.
Manual HV Wash Bay
The Custom Vehicle Wash bay was designed as an easy to relocate yet in situ wash bay with skid mounted equipment and controls. The new system was installed as a pre manufactured plant with suitable controls, audio and visual alarms, emergency stop button and isolators. The system is operated via a basic HMI interface.
Automatic Haul Truck and LV Wash Bay
The Custom Vehicle Wash bay was designed as an in situ wash bay with skid mounted equipment and con-trols. Assuming relatively small numbers of vehicles to be washed, it was proposed to combine the automatic Road Train and Light Vehicle wash systems into one system. This is more economical from a CAPEX and OPEX point of view and thanks to separate wash programs the system is also capable of reducing water consumption and recycling volumes. High quality spray nozzles PowerJet1500 from SPRAY SYSTEMS were used. Their 15 degrees coverage plus 15 degrees oscillation pattern –and the total amount of nozzles chosen for the design guarantee a very effective wash while reducing the amount of water needed per wash