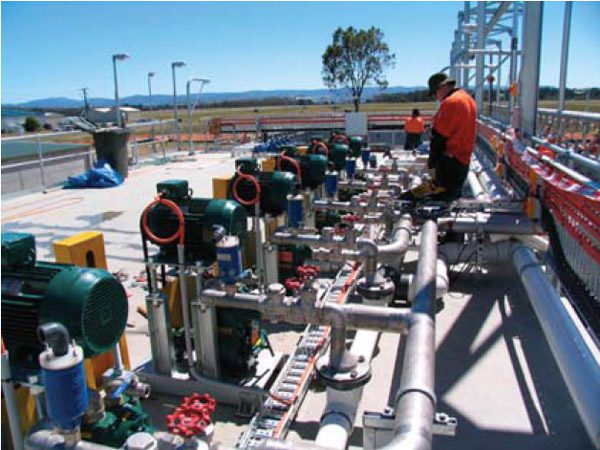 Clarence City Council
Cullys was part of a team engaged by Clarence City Council to design, construct and commission their new Water Recycling Facility adjacent to the Hobart International Airport.
Clarence City Council, responding to rapidly expanding commercial development in the Cambridge area and increasing pressure on wastewater treatment infrastructure, authorised construction of a state of the art wastewater treatment and recycling facility.
One of the goals for the new plant was to raise watewater treatment standards and replace the existing Hobart International Airport secondary treatment plant, Council's lagoons in the Cambridge and the Barilla Caravan Park lagoon system. An EcoNova NovaPro™ waste water recycling system was selected to service several stakeholders and link to the recycled water irrigation network servicing local golf courses and nurseries.
The EcoNova plant features state of the art KOReD Membrane Bioreactor (MBR) technology to ensure that the treated water is safe to discharge into Lower Pittwater when not required for irrigation.
The 1.6ML/day plant provides capacity to treat the expected growth in the area over the next 10 years.
The Cullys team was heavily involved in the construction of the plant and also responsible for the design, manufacturing, programming and integration of the electrical and control components. The plant operates fully automatically using a programmable logical controller (PLC) which also allows for remote monitoring and management to reduce onsite operator involvement.
Cullys national presence ensures efficient and effective support is provided. Our National coverage includes Perth, Darwin & Sydney and through our strategic alliance partners, the business has points of presence in Melbourne & Brisbane. As principal contractor Cullys offers 'turn-key' solutions and provides its clients with a single point of contact for all communications, liaison and management.
Cullys Management System is implemented to manage all aspects of our business. It provides a framework through which the performance of the customer focused business activities, such as Health & Safety and Environmental Management, can be monitored, controlled and continuously improved. Cullys is committed to ensuring the health, safety & welfare of all personnel within its workplaces and ensuring a high standard of environmental performance from management to employees & contractors. Cully's management team accepts responsibility for the effective implementation of this policy and provides systems, education, supervision and support to ensure a safe working environment.
Cullys commitment to professionalism has seen our client base continue to expand. Our flexibility allows Cullys to deliver exceptional results across a complex and varied customer base. We provide a full range of consulting, electrical, mechanical, structural and process solutions that are applied to new projects, upgrades, expansions, renewals and operations & lifecycle support phases.