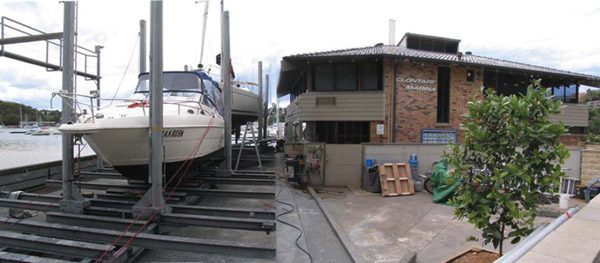 Clontarf Marina
Watersports is one of Australia's most recreational pursuits thanks to over 30,000kms of coastline and temperate climate. Marinas and yacht clubs form a vital part of the outdoor lifestyle and protecting the marine environment from negative impacts of the growing leisure boat industry is as important from an ecological point of view as from that of a regulatory perspective. With the number of boats and marinas growing rapidly the EPA and local government and water organisations are pushing for the marinas to comply with the Environmental Protection Act 1994.
Clontarf Marina (Sydney) strives to be a leader in the industry and in order to have a start of the art facility Contarf engaged Cullys for the delivery of a slipway wastewater treatment system. The system treats 'first-flush' and washdown wastewater by a combination of pH balancing and flocculation processes to produce treated water of a quality that complies with the following Sydney water discharge guidelines:
pH value – pH unit 7 to 10
suspended solids (55) mg/L <600
copper mg/L <5
zinc mg/L <5
oil & grease mg/L <110
The process developed to effectively treat the slipway wastewater is as follows:
Water is pumped (existing diaphragm pump) from the collection pit into the hopper until it is full.
When the hopper is full the pH is adjusted
When the pH is correct the flocculent is added and stirred
After mixing the solids are allowed to settle in the hopper
After settling the decant valve opens and discharges the water into the Vertical Gravity Separator (VGS)
The sludge valve opens and drains the sludge back to the holding tank (by Clontarf Marina)
The water is transferred from the VGS to sewer by gravity
THe cycle starts again
The new Vertical Gravity Separator is used as the last point of treatment prior to sewer discharge
Sludge storage is installed with an overflow pipe to the collection pit.