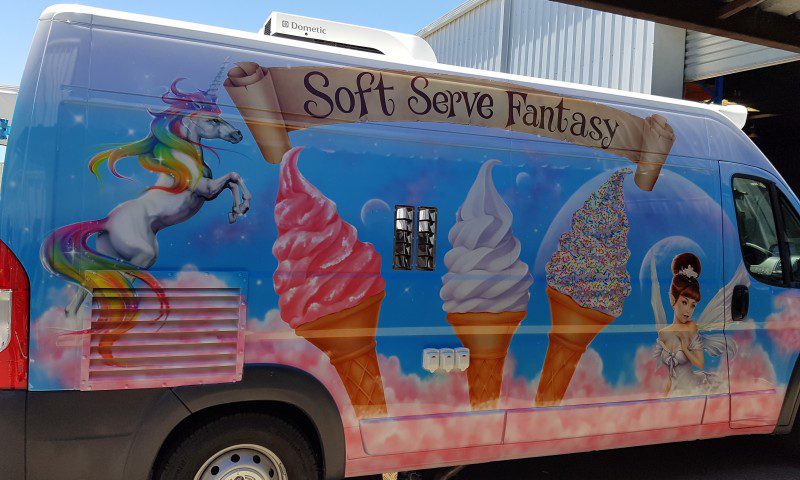 Cummins Onan 11HDKBN COHO Generator Installation
Cullys were engaged to supply a Cummins Onan 11HDKBN COHO Generator to be used in a Fiat Ducator van which was being modified and fitout as an Ice Cream Van. Cully  also carried out the Design, Modification, Installation and Commissioning of the generator.
Cullys scope of works included:
Remove fuel tank from vehicle and fit, Department of Transport WA approved method for installing additional fuel pickup and return line fittings to conform with NCOP09 Section LM, Fuel Systems.
Run fuel lines from new fittings to generator and terminate.
Fabricate support frame work to mount remote fan assisted radiator, ducted to exhaust grill mounted through RH rear guard paneling.
Scrutinize air intake routes and create openings in body work to conform to the manufacturer's installation requirements.
Position and mount Cummins Onan 11HDKBN generator, remote radiator kit, wire in electric fan to generator via temperature switch in radiator, mount and connect remote control panel.
Commission system.
The Ice Cream Van will include the following equipment which will be run powered by the Cummins Onan 11HDKBN Generator:
Dometic Harrier Inverter Air Conditioner ~3.7kW
Soft Serve Machine ~2.5kW
2 x 12L Slushie Machine
3 Door Fridge
Chocolate Warmer / Microwave
Generator Installation by Cullys
Complete Installation: