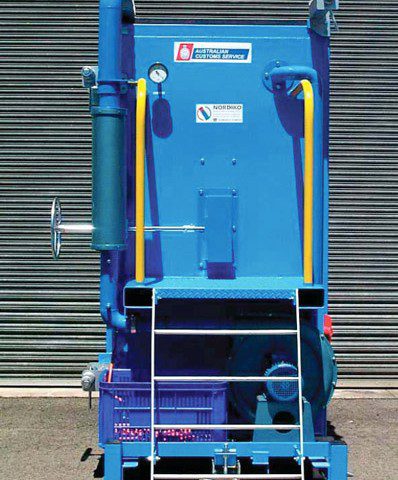 Nordiko Gas Evac
Nordiko Quarantine Systems Pty Ltd is a wholly owned subsidiary of Asiaworid Shipping Services Pty Ltd, a 100% Australian owned company.
Nordiko's concept evolved as a response to a number of different industry needs. These individual requirements, when viewed collectively, led to the development of the revolutionary Nordiko method of fumigation, a development we believe will have a dramatic impact on future fumigation processes both in Australia and overseas.
Nordiko offers a method of fumigating cargo that addresses some critical difficulties that have been faced, but not adequately resolved by the shipping industry for decades. These can be summarised as follows:
Providing a more effective fumigation of goods in terms of coverage by the fumigant.
Providing a safer working environment for the fumigator, other people in the workplace and the community at large.
Providing a method of fumigation that dramatically reduces the ozone depleting effects of methyl bromide to our atmosphere.
The other side of the fumigation problem is residue gas left in import containers after fumigation overseas. One of the main features of the Nordiko fumigation unit is its fast evacuation of gases post fumigation. With that in mind Nordiko modified the design to produce a unit to evacuate residual gas from containers quickly and safely. The Nordiko Gas Evacuation Unit was born.
The Nordiko Gas Evacuation Unit
The Nordiko Gas Evacuation Unit is speciiically designed to evacuate residual gases from imported containers. It is designed to fit onto the right-hand container door opening, by affixing twist-locks to the top and bottom right-hand corner castings and swing levers to the left-hand door locking rods. To ensure a gas-tight fit, the unit is equipped with an expanding seal, operated by a wheel on the side of the unit.
This unit is self-contained, with its own exhaust fan to evacuate the residual gas from inside the container.
If required, recapture filters can be fitted to trap the gases as they are evacuated, thereby ensuring that no gases escape into the atmosphere. All fumigant gases can be captured in this way regardless of type. Unless filters are required, the gas will be exhausted to atmosphere by means of a flexible hose that is placed across the roof of the container, directing the gases into the atmosphere outside the building. These hoses can also be plumbed into exhaust fans in the roof of a building if preferred.
Service
Cullys national presence ensures efficient and effective support is provided. Our National coverage includes Perth, Darwin & Sydney and through our strategic alliance partners, the business has points of presence in Melbourne & Brisbane. As principal contractor Cullys offers 'turn-key' solutions and provides its clients with a single point of contact for all communications, liaison and management.
Cullys Management System is implemented to manage all aspects of our business. It provides a framework through which the performance of the customer focused business activities, such as Health & Safety and Environmental Management, can be monitored, controlled and continuously improved. Cullys is committed to ensuring the health, safety & welfare of all personnel within its workplaces and ensuring a high standard of environmental performance from management to employees & contractors. Cully's management team accepts responsibility for the effective implementation of this policy and provides systems, education, supervision and support to ensure a safe working environment.
Cullys commitment to professionalism has seen our client base continue to expand. Our flexibility allows Cullys to deliver exceptional results across a complex and varied customer base. We provide a full range of consulting, electrical, mechanical, structural and process solutions that are applied to new projects, upgrades, expansions, renewals and operations & lifecycle support phases.