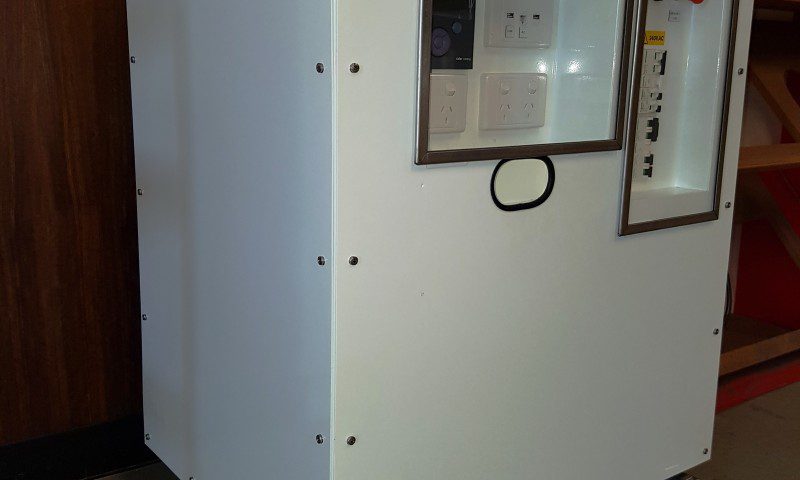 Western Power – Life Support Equipment PSU
1. DESIGN CONCEPT
Please refer to the accompanying drawings as detailed above; Ref. B & C.
The main PSU and the external auxiliary battery cart will be constructed from white powder coated aluminum with a framework and removable side/top panels for internal service access and ease of construction. It will be of a cubicle form on castor wheels with a raised handle for ease of maneuverability by a technician.
The technician will have access to Operator Panels and socket outlets behind a clear lockable cover. The circuit breakers/RCD's (RCBO's) and emergency stop will be located under a clear hinged cover and will be accessible to the user. A short antenna for the mobile data network will be mounted externally on top of the unit.
The width of the PSU has been design to fit through standard domestic doorway.
To assist in transporting the PSU "Safely" up steps/stairs and comply with OH&S legislation, we have offered an electrical powered stair climbing trolley complete with auto brake for added safety – see attached brochure reference G.
The Main PSU is capable of remote monitoring and configuration through the mobile data network, without the use of a "Proprietary Server".
2. BRIEF SPECIFICATION
The electrical parameters are in accordance with the specified requirements and summarised as follows:
Input – AC:
230VAC, 50Hz, 10A.
Input – DC:
48VDC (Nom) from integral batteries.
External Input – DC:
48VDC – from plug-in external battery cart.
Output:
230VAC, 50Hz Sinewave, 1,500VA 2 x 10A Twin Socket Outlets.
Battery Type:
LiFePO4, as per attached data sheet.
Inverter Unit Output Transfer Switching Speed:
< 20ms
The battery sizing has been calculated to provide the specified requirement of:
"Output capacity of 500 watts (0.8 power factor) for 10 hrs at the end of the battery cycle life."
The life cycle of the batteries is greatly subject to various factors including the depth of discharge (DoD), discharge rate, etc. and therefore can only be estimated in this particular application. However, Victron have advised the following "Approximate Only" values:
Life Cycle of battery to 80% of new capacity, (i.e.; 144A/hr) – 400 cycles @ 80% DoD.
The currently estimated weight of the Main PSU is 145kg; however this is subject to final design calculations.