Description
The Mega-Guard Dynamic Positioning System (DP) automatically controls a vessel's heading and position
Features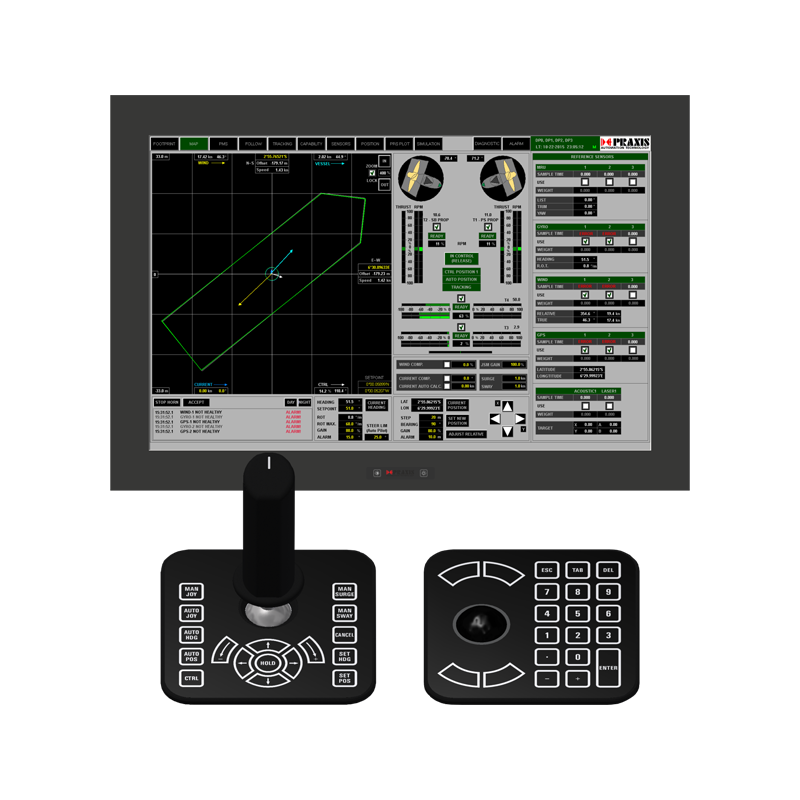 The Mega-Guard Dynamic Positioning System (DP) automatically controls a vessel's heading and position by activating thrusters based upon data as received from position reference systems, gyrocompasses, wind sensors and motion reference units. The Auto Track mode allows the ship to move along a pre-defined track at low speed as defined by the operator.
The Mega-Guard Joystick Control System (JC) is a basic version of the Mega-Guard DP system and allows the operator to automatically control the heading and manually position the vessel based upon data as received from gyrocompasses and wind sensors.
The Mega-Guard DP and JC system are based upon the field-proven products of the Mega-Guard product line and the experience as gained on the design and  delivery of joystick control systems as supplied on many different kind of vessels since 1980 (see reference list).
The Mega-Guard DP and JC system are suited for e.g. supply vessels, tug boats, dredgers, cable and pipe laying vessels, FPSO's, heavy lift vessels and mega-yachts in full accordance with the applicable classification and IMO rules (DP1, DP2 and DP3).
---
Main advantages of the Mega-Guard Dynamic Positioning System:
Accurate positioning with better then 0.5 meter accuracy in combination with DGPS and MRU (inclinometer). Higher position accuracies can be achieved with e.g. a laserbeam positioning system.
Sea trial tuning and testing can be limited to three days maximum. Parameter tuning is already done before shipment out of our factory by modelling of the ship and testing with a ship simulator.
Extremely reliable hardware by using only solid state components and 24VDC power supply for all components within the DP system. All Mega-Guard DP hardware and software is designed and manufactured by Praxis Automation Technology and is applied in other Mega-Guard products as well (AMCS, VCMS, PMS, PCS, INS, etc).
Various language options are available including Chinese, Japanese and others.
Supports third party and own (Mega-Guard brand) position reference systems: Mega-Guard DGPS/Glonass with NTRIP (DGN), Hydroacoustic Position Reference (HPR) and Taut wire Position Reference (TPR).
Cost effective DP solution. Reliable hardware that is field proven on hundreds of vessels, allows for efficient off the shelf manufacturing in large quantities. As a result, we can offer our advanced Mega-Guard Dynamic Positioning System, including navigation sensor package, at a very attractive price level. In addition, customer's  investment is supported by a world wide service network.
---
Reference and models
References
Cable and pipe laying vessels (DP2)
Offshore supply vessels (DP1 and DP2)
Ocean salvage vessels (DP2)
Tug and work boats (DP1)
Multi purpose vessels (DP1 and DP2)
Platform crew boats (DP1)
Passenger ferries (DP1)
Jack-up platforms (DP1)
Mega-yachts (DP0)
Applicable classification: DNV,BV,LRS,GL,ABS, CCS, RMRS, IR, JG.
Joystick and Trackball panel
Control mode selection is executed with pushbuttons on the Joystick panel. Step adjustments of position and heading setpoints can be made on the Joystick panel as well. Larger size widescreen TFT's also allow for absolute entering of position (northings/easting or UTM) and heading (degrees) setpoints through the Trackball panel. Vessel behavior, sensor data and thruster data (setpoint and feedback) are shown on mimic diagrams on the widescreen TFT's.
The following main Control Modes can be selected on the Joystick panel:
Auto Position- Minimum Power Mode ; Weather Vane Mode
Auto Position- Minimum Power Mode ; Positioning Circle Mode
Auto Position-Joystick Manual Surge Mode
Auto Position-Joystick Manual Sway Mode
Auto Position-Joystick Manual Surge/Sway Mode
Auto Track (low and high speed) Mode
Track Follow Mode
In addition, the DP system can be used as a training system by entering the Simulator-Trainer mode. The Simulator mode can only be selected on the  DP Operator Workstation when the DP and JC system are not active (thrusters in individual mode). The built-in Simulator-Trainer mode fulfills the rules of a Nautical Institute Class C simulator.
Models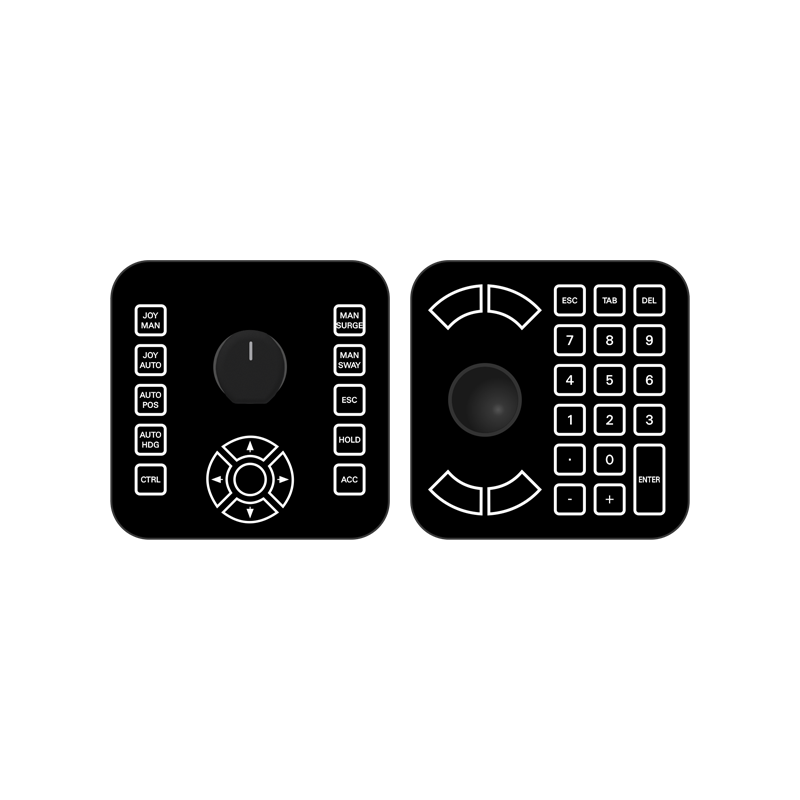 Mega-Guard JC: Joystick Control System with optional position holding capability
Mega-Guard DP0: Dynamic Positioning System
Mega-Guard DP1: Dynamic Positioning System with independent JC System
Mega-Guard DP2: Dual redundant Dynamic Positioning System with independent JC System
Mega-Guard DP3: Triple redundant Dynamic Positioning System with independent JC System
---
DP Operator Workstation
Operator mimics
The DP Operator Workstation contains user friendly mimic diagrams so that the ship's crew can execute DP operations in an accurate and safe way. The following main mimic diagrams are available:
Map (North pointing upwards)
Diagram (bow pointing upwards)
Capability
Positioning sensors
Other sensors
The following sections describe the various functions available within the mimic diagrams.
Diagram section
Heading indication with rotating compass and rotating decimal degrees
HDG (°) and ROT (°/min)
Latitude / Longitude
COG (°) and SOG (knot)
Error X (m) surge and Error Y (m) sway
Wind and current vectors relative
Total thrust vector with thrust amplitude and direction
Individual thrust indication for each thruster with amplitude and direction
Map section
Heading indication with compass slider
HDG (°) and ROT (°/min)
Latitude / Longitude; map indication
COG (°) and SOG (knot)
Error North (m) and Error East (m)
Vessel orientation, heading and movement
SOG vector (green)
Wind vector (yellow)
Force vector (white); controller output

Thruster section
Bargraph and numeric value for each thruster: setpoint and feedback
An icon for each thruster showing thrust angle setpoint and feedback
Thruster ready indication
Heading controller output
Station in control and Operating mode
Alarm area
6 rows for alarm display with alarm acknowledgement for each alarm
Day/night vision selection
---
Mimics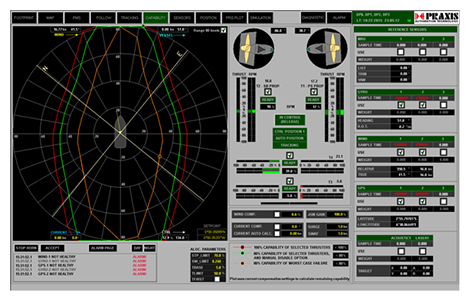 Capability section
Online X-Y plot of wind capability with selected thrusters and selected current value
Capability plot with 80% thrust, 100% thrust and with worst case thruster failure
Wind vector; direction and speed; if this vector reaches the capability boundries the vessel is out of capability
Current settings
Sensor section
Supports multiple position reference systems: DGPS, laser, radar, hydroacoustic, taut wire and winch
Supports multiple sensors: gyro, wind and motion reference unit (MRU)
Absolute (Northings and Eastings) or relative coordinates Sensor validation and weighing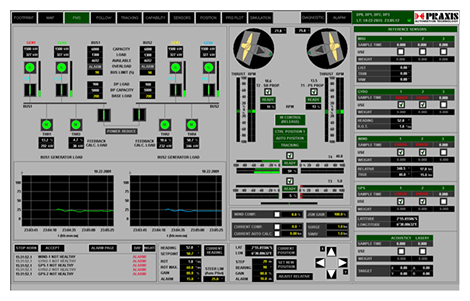 Heading setting
Heading setpoint (°) and ROT (°/min) maximum
Alarm limit (°)
Steer limit (°)
Heading gain (%)
Environmental setting
Wind compensation setting in between 0% and 100%
Current direction (°)
Current speed (knot)
Check box to select or de-select automatic current compensation
Position setting
Step (m) adjustment
Bearing (°) adjustment
Relative (X/Y) or absolute (N/E )
Position setpoint mode
Alarm limit (m)
Set new position
Up/down and Left/right step (m)
Position gain
Joystick setting
The following parameters can be set:
Joystick gain
Display of thrust vectors to the thruster controller
Brand
Praxis
PRAXIS Leading worldwide in ship automation and navigation systems
Cullys offers comprehensive sales and service support and solutions in the ship automation and navigation equipment field.